As much as hair changes over the decades, so to do eyebrows. They've gone from thick to thin, to over tweezed and back again. So many trends and shapes have come and gone throughout the decades, take a look back with me.
The 70's
On the heels of the 1960's, when the brow was more defined, the 70's eyebrow took on a shape of its own. They tended to be less groomed with a more natural-looking arch. The 70's was the beginning of Brooke Shields' career, and her bold, thick and au-naturale eyebrows marked the look of the decade and even continued to reign into the 1980's.
The 80's
Although Brooke Shields was still the most coveted eyebrow well into the 1980's, Madonna hit the scene with her very own signature brow. With this decade, disco was out, Flashdance and Fame ruled the day (and night). The 80's were famous for big hair and big bold eyebrows.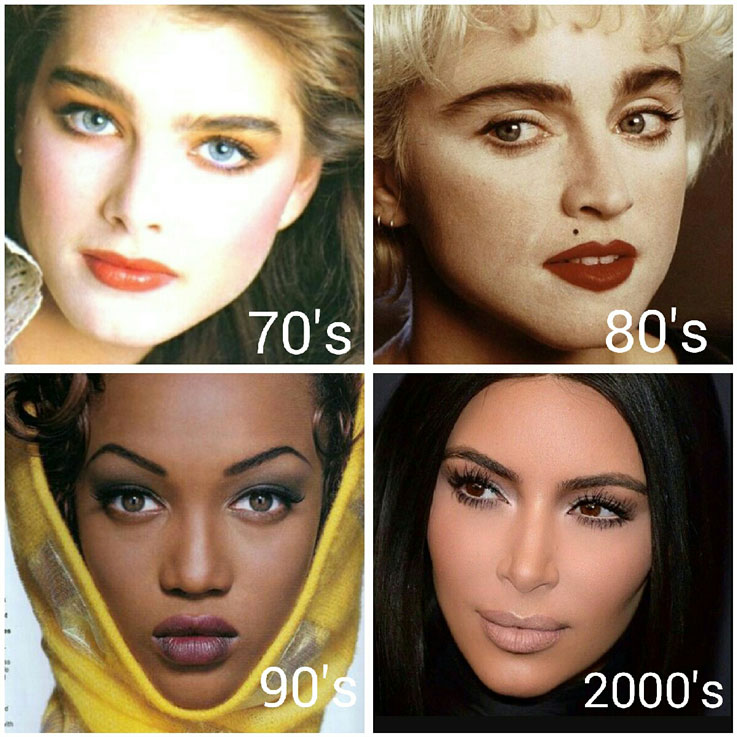 The 90's
The 90's was the age of, "The Supermodel." We knew them all by their first names: Cindy, Linda, Christy, Kate, Claudia, Naomi and Tyra. With the rise of the supermodel came the rise of a well groomed, arched brow. Waxing to tweezing to bleaching became more routine practices. The 90's also introduced us to the late Kevyn Aucoin. Famous makeup artist and author, Aucoin almost single-handedly altered the eyebrow game by redesigning the shape and the color of the brows. These graceful shapes and arches can bee found within the pages of countless fashion magazines.
The 2000's
When you think of eyebrows over this last decade, there are two people who come to mind; Cara Delevingne and Kim Kardashian. Their brows are full, thick, and beautifully groomed to perfection. These brows seem to have taken the best of the 70's and 90's resulting in a full, groomed, expressive brow.
So just as hair travels through a cycle of trends, brows enjoy the same kind of ride!