In our previous articles in the series, we discussed the first steps you will need to take to get your business started up. We covered the numbers, location (depending on your plan – be it grandiose or more modest), mechanicals, and the layout. But, these are just the preliminaries you need to be aware of to get the best out of your plan. Let's now take a look at some of the fun, but just as important stuff, you need to know. In this post we are going to get into the endless possibilities of creating your dream decor for your salon!
Take a minute to ask yourself a couple of very important questions:
What is the style I want for my new business?
Do I need to relate to a wide variety of clientele? Women/ men/ kids? Who are my potential clients?
Exploring Your Options with Style
Think about what vibe you want your new business to relay. This will give you more insight into the type of décor. Many salons have a clean more modern look. They have to be relatable to a variety of clientele, including men.
A new business may not want to be too frilly, and make their male clients uncomfortable. Men may not get lash or brow extensions, but they will get facials and waxing services. Too much pink and zebra stripes or leopard print can be a turn off for your male clientele. Keep this in mind when you are planning the color scheme and décor.
Other décor factors you should consider, is if you are picking a style that is very trendy. While trendy is fun and fashionable, it can date your new business. Décor trends come and go. If you are willing to spend money every five years to do a mini makeover, then be as trendy as you like. Chances are, you will need to update a bit from regular wear and tear on your space every few years anyway.
Am I All About the Barn Wood and Rusty Metal?
The latest fashion trend in salon décor is rustic. Old barn wood, rusty metal, and a more down-home look are warm and comfortable. This look is cozy, but is it the vibe you are looking to create? A few touches of rustic can add drama in just the right places. In any trend, a little goes a long way. Try choosing a feature wall, or wrap your reception desk or beverage bar with barn wood for a simple touch. Remember, in a few years you may be bored with this look. So, easy does it.
Can I Go Past Retro?
Some of you will prefer a retro look. Go for it! This look is classic, fun, and fanciful. Everyone can appreciate the classic retro look in furnishings. You can find these furnishings online or with your local supplier. Many vendors will carry these classic pieces. Lots of bright vinyl, shiny chrome, and soft rounded edges are common in this design. Who doesn't just love this look?
Am I the Modern Type?
Modern salon furnishings can be very fun as well. There are classic modern furnishings that give off the vibe of a high-end art gallery. Many salons really appreciate this look for their business. These are timeless pieces that can stand the test of time. This look is a more minimalistic tone, and is everlasting on the design spectrum.
You will not have to redecorate or modernize this look as often as some of the trendier décors. Some of these designs are very sleek with shiny smooth surfaces. The key to getting it right is:
Cabinetry that is smooth and simple
Hardware that is almost nonexistent
Off-white, charcoal grey, and black tones
Pairing chrome accents, such as drawer-pulls and chair-arms, completes this modern look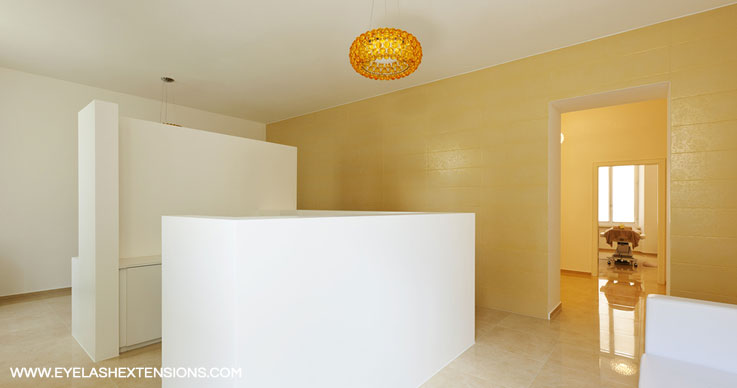 Do I Want Sparkle and Shine, Crystal and Mirrors?
There are those of you who are all-out frilly, feminine, and sparkly. This can be the most fun décor of all. If you are servicing a mostly female clientele, then sparkle away! Who doesn't love a few beautiful crystal chandeliers? And, how about those glass and mirror wall sconces that are so lovely?
You can create a pretty, Cinderella-esque atmosphere for your clients. What lady wouldn't like to feel like she just stepped into a fairy tale? Beautiful chairs and cabinetry will add to the drama with this style of salon décor. Just keep in mind, male clients will not feel very comfortable in this female-fussy environment.
At Home in Shabby Chic?
Shabby chic is an eased version of the shiny sparkly décor. This can be relaxed, soft, and casual with a feminine twist. Old looking furnishings with rubbed off paint and oversized chairs, lots of flowers and pastel colors work well in this style. Chandeliers and lace also complement the feel of the room. This is a style that is endearing, and can stand the test of time – a more lived-in look that creates a sense of nostalgia.

Making the Best Choices for your Salon
Take some time to choose the look that best suits the vibe your new business will portray to the public. Keep in mind the type of clientele you wish to attract into your amazing, new salon. A multi-cultural, multi-generational, and gender-neutral décor is your safest bet if you want to widen your scope. It may not be the dream décor you were thinking of, but investing wisely now will save you headaches and money in the long run.
Salon furnishings are costly; doing your research in advance can help get you moving in the right direction. In five years, you don't want a new client to know what year you opened your business by the décor. If you are too "on trend" you will date your salon by the décor.
And finally, make an appointment with a salon planner. Your local supply vendor will have resources available to you for planning your design, layout, and furnishings. These services are usually complimentary as a part of the vendor's services they provide to their clients. Take advantage of this. Many vendors will build you a bundle package, and give you better pricing if you purchase all your furnishings and supplies from one place.
Tell us what look you love the best. And if you already have your own gorgeous salon, what style did you opt for? As always, we would love to hear from you in our comments section below!
---
Featured Image Credit: Mark Humphrey Xperiencefactory