At GladGirl, we don't just lash our customers, we love them. And this week, in the first of a four part series, we talk with Sandra, one of our expert team members at GladGirl Northridge.
Q&A
1. What's your favorite Glad Lash/GladGirl product, and why?
My favorite Glad Lash product for professional use are the Signature Mink .03 extensions because you can create a beautiful, fluffy fan & still keep the integrity of their lash. Volume Plus is my go-to glue, it has really good retention. For non-professional use, my fav would be the Naomi strip lashes and our black latex free glue.
2. What's one of the top asked questions by Glad Lash customers?
Customers are always asking me: "What is your Best Volume Tweezer?"
This is a great question and my answer is that it has a lot to do with personal preference. But my favorite is our Doe Foot Tweezer because I love the firm grip and the ease it gives me to create my own fans.
3. What's your favorite lash extension, eye makeup or industry tip?
Lash Tip: Do the taping method. It makes lashes appear more visible. And of course, practice makes perfect so be patient while you perfect you art!
Makeup Tip: Sanitation is everything. Never double dip. Take your time, and again, practice makes perfect.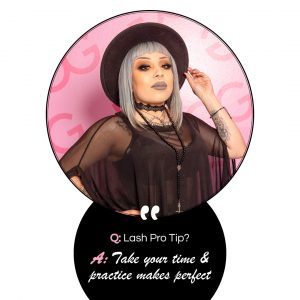 4. What's the most sought after item by Glad Lash customers?
The most sought after items by our customers are our Nexcare Sensitive Tape, Volume Plus Glue, Signature Mink Lashes & our Rapid Fans – they are hot right now.

5. What's your favorite thing to do to unwind from your day, or have fun?
My favorite thing to do to unwind is to have dinner with my family after a long day, drink a glass of red wine & watch movies. For alone time, I love to watch true crime documentaries, read dark literature or listen to some music while I do make makeup/hair.
6. What's the best part of lashing?
The best part of lashing is the confidence & simplicity I know I've given other women to feel beautiful with little to no makeup. It's also given me confidence, knowing that I can be my own boss; something this industry has allowed many women to do.