Everyone has their favorite beauty products, right? The ones that always look good, no matter what mood you're in. The ones that make you happy and seem to last forever – and they come in the perfect shade! But, how do we know when it's time to toss our beloved products away and start fresh? How do we know when beauty products expire?
It is important to know when products expire because makeup can attract bacteria that can cause skin irritations like rashes, breakouts, and even eye infections. In this article, we explain when you should consider tossing your favorite beauty products in the trash.

When Do My Beauty Products Expire?
Some tell-tale signs that your makeup is dead to you are when it starts to smell or when the texture begins to change. Although this might seem obvious, it is still good to be aware of this first expiration sign. When checking for outdated products, remember that the shelf life of a product starts once you open the product and not necessarily when you buy it.
Here are some key points of reference for the expiration on everything in your beauty kit:
Foundation
Foundation normally expires between 6 months to a year after you have opened it. To keep foundations from expiring too quickly, try not to put your fingers at the opening. Instead, apply the foundation to the back of your hand first and take up the product from there instead.
Fragrance
Fragrances take 8-10 years to expire so start stocking up! Just try to keep them out of direct sunlight to avoid them going bad.
Lipstick and Gloss
Lipsticks, lip liners, and gloss take 1 year to go bad – unless they start to dry out or smell – then it's time to say goodbye.
Brow Pencil and Kohl Liner
It takes liners about 1 year to expire. Keep them sharpened for best results so you can extend usage!
Mascara
Depending on how often you use it, mascara takes about 3 months to expire. That means it's more than likely time to toss out the 2-year-old mascara you have been holding onto for way too long. Bacteria can easily get into the tube so it is best to toss your old mascara out and steer clear of suffering eye funk problems.
Liquid Eyeliner
Liquid eyeliner takes 3-4 months to expire, depending on usage.
Blush and Powders
Blush and powders take 2 years to expire so you can probably hold onto these a while longer.
Cream Blush
Cream blushes, on the other hand, take 12 to 18 months to expire. Always use clean hands or products to keep these fresh and germ free.
Eye shadow
Eyeshadows fall along the same lines as powder longevity when it comes to the expiration time, lasting about 2 years. However, I recommend these be changed out more often because of usage around the eyes. 
Nail Polish
As a general rule, nail polish takes 1-2 years to expire depending on storage.
Gel Liner
Gel liners expire 2 months after initial usage because it can trap bacteria easily. It should be changed more often because of its usage around the eye area. 
More Signs for When Beauty Products Expire
On all beauty products, there is a symbol of a little open container with a number next to a letter M that looks like this: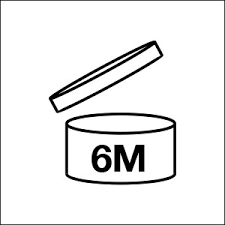 This image signifies how long a product will last once you have started using it. In this case, the product should expire 6 months after you have opened it. If you have ever wondered what the heck this was on a beauty item, this is game-changing for you! These guidelines are useful to know not only for your own health but because expired products are just gross! Being sanitary is the only way to be!
Hope this was helpful to you all. Share this with your friends that hold onto old products way too long and start re-stocking your beauty inventory today!