Stop the presses! This is a major LASH moment for Glad Girls everywhere! Did you know that GladGirl now has 3D strip lashes? These are insane! Think of a 3D movie, but with that effect on your lashes. They come in 8 different styles and are beyond gorgeous.
3D lashes are multi-layered strip lashes that create a very full and dramatic effect. Delicately created from Synthetic Mink, they are still durable enough to be reused up to 20 times if they are taken care of properly.
Styles
Personally, my fave styles are Kate and Naomi. If you want to rock a glam look then these are a MUST. All 8 styles come in a cute lash kit that includes a plastic applicator and lash adhesive (which contains latex, but if you have a sensitivity to it, latex free adhesive is available separately). Again, OMG!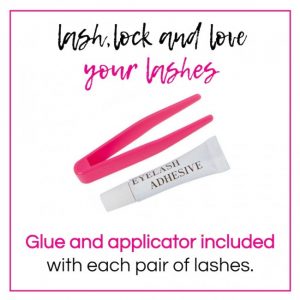 GladGirl's 3D strip lashes are made to enhance your look. They make a statement or can make several statements, depending on your vibe. 3D lashes are on trend and compliment your style.
And most importantly they are FUN! GladGirls just wanna have fun, right?
Colors
Now, let's talk colors. Have you seen the color palette of lashes that GladGirl has to offer? Spring is literally tomorrow so let's have some LASH fun with these. From pink to blue to red, you can "rainbow-fy" your lashes by adding these hues to your lash extensions. Your personality will show with every blink! Your eye color will be enhanced…you'll get a raise…Haha…I mean you will get praise (wink wink).
This spring, choose to LASH out loud!