Summer has officially started and JULY 4th is in 2 days!!  This post will have you feeling like celebrating red, white and blue beauty well past July 4th, I promise!
Make Yourself POP
Nothing sets off fireworks like red luscious lips, am I right?! Get yourself an amazing true red lipstick and paint the town red! Give patriotic air kisses to everyone in the crowd. You can also enhance those red lips with some pizazz…
Take some amazing red, clear, or blue GladGirl Crystals and create a fun design on or around your lips. Just use a bit of the GladGirl adhesive to apply it on. You can even make a red, white, and blue heart or star on your cheek if you're feeling extra cheeky!

Bedazzle Anywhere You Want
Using GladGirl's lash adhesive is a great product to use for these crystals and it is completely safe since you only have to use a small amount of adhesive to stick your bling on your face — it's even safe to put around the mouth! If you are allergic to latex, please use GladGirls' latex-free adhesive. Rem
ember to have fun and to always be safe when using eyelash glue.
Another fun beauty adventure is to use blue eyeliner! GladGirl has you covered…they have an amazing blue liquid eyeliner that you could use to give yourself a killer cat eye — and then add some glitter on top! You can add red or white glitter to half of the cat eye as well to make it more spirited and fun. You can also add some GladGirl crystals on top of the liner too! A wink and a salute to that!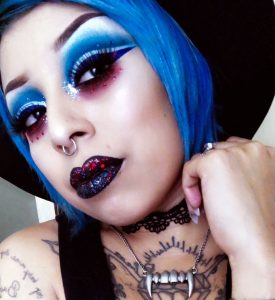 There are also fun eyelash extensions you can play with your 4th of July makeup look. Get into the spirit with a hint of red, white or blue hues in your lashes. Your friends and family will give you major props for stepping up your lash game for the holiday!
Baby, You're a Firework
Honestly, the sky is the limit when it comes to making yourself up this holiday. These are just a few fun ideas to take with you to your 4th of July picnic or firework show and beyond! Let me know in the comments section below if you have any fun 4th of July makeup ideas I could try out this holiday!
May the 4th be with you!
---
Image Credit
Thank you to Pearl. Be sure to check out her Instagram for some more inspiration and daring makeup ideas @pearlsuicide!